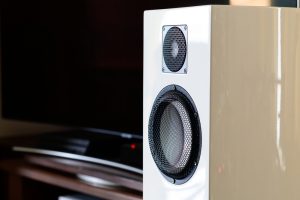 You know that feeling when you want to play some music and dance around your room till you drop, but the sound is just not right? There's nothing I hate more. Or even worse, when I turn the volume up, and the music is still not loud enough!
Well, guess what — most of the time, it has nothing to do with the track quality. If the sound seems off, the speakers are the guilty party.
You've probably heard people say that you can't expect anything special from bookshelf speakers. I agree to some extent — bookshelf speakers are small and can't have the power or quality of PA speakers that live bands use. Still, just because I'm listening experience to music at home, from my phone or computer, it doesn't mean that I have to settle for average sound.
Therefore, if you want to enjoy the best audio experience possible, you must go for premium-quality speakers. However, there are so many options, which makes picking the right speaker set rather tricky.
So, to help you out, I tested and reviewed some of the best bookshelf speakers and chose a winner. But before we move on to my list, let's see what features you should pay attention to when choosing your new best speakers.
---
A Comparison Table That Will Help You Choose The Right Active Bookshelf Speaker
| Product Image | Product Name | Highlights | |
| --- | --- | --- | --- |
| Top | 1. Klipsch R-15PM | A fantastic speaker set overall, R-15PM is ideal for those who enjoy a rather smooth but powerful sound. The combination of a built-in amplifier and Bluetooth support will satisfy any audiophile. | CHECK PRICE |
| | 2. Edifier R980T 4" | If you're looking for a simple, budget speaker set, R980T is the right way to go. It's easy to use, has great sound quality, and outstanding bass. | CHECK PRICE |
| | 3. Audioengine A5 Plus Classic | A5 Plus Classic will provide you with unparalleled power and silky-smooth sound. Its different positioning and multiple connectivity options are a huge advantage, as well. | CHECK PRICE |
| | 4. Presonus Eris E3.5-3.5" | As a speaker set that you can use to create your own mixes, Eris E3.5 offers unmatched quality. What's more, it is amazing not just for music but also movies, TV shows, and gaming. | CHECK PRICE |
| | 5. Edifier R1280T | The best budget option, R1280T combines great design with strong bass, powerful sound, and superb wattage. | CHECK PRICE |
---
How to Pick Good Active Bookshelf Speakers — A Buyer's Guide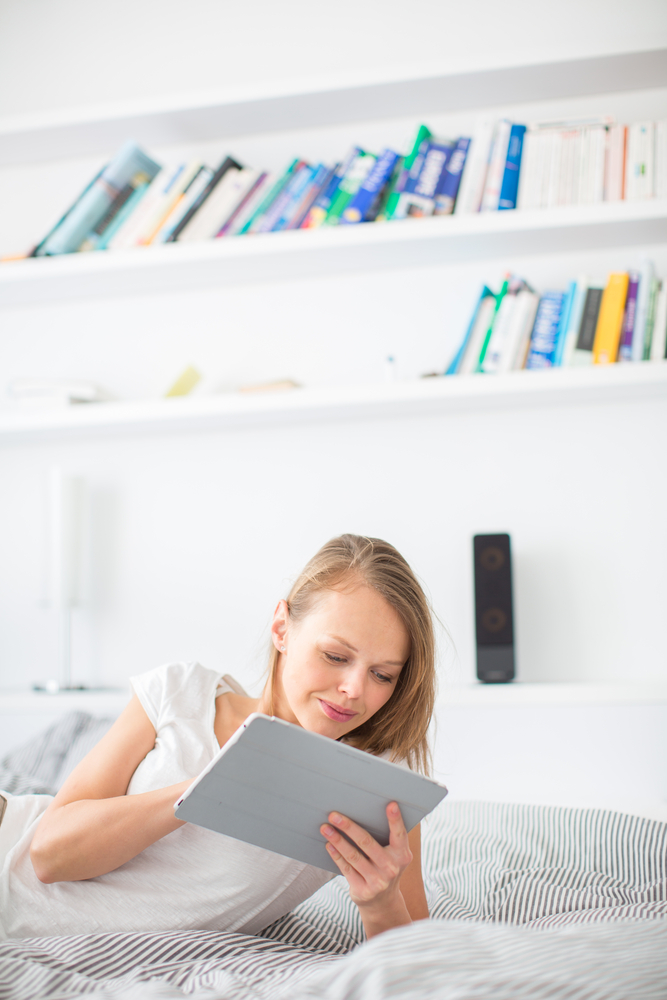 Premium bookshelf speakers can turn any song into a fantastic music experience. In contrast, if you go for an average option, the sound quality will be everything but great.
Hence, it's essential to consider several factors if you want to buy the best bookshelf speakers. Here are some things to keep in mind.
Power and Capacity
When it comes to active bookshelf speakers, the wattage depends on several factors. A major one is, of course, your taste.
I, personally, like to turn the volume up and listen to more energetic music. So, if you share my preferences, you will need a stronger speaker set to avoid sound distortion.
However, if you're a fan of calmer music and don't like the sound to be too loud, a bookshelf speaker set with 20–30 watts will be more than enough.
Another thing to consider is your room's size and layout. The larger the room is, the stronger the speakers must be. Still, bear in mind that bookshelf speakers are designed specifically for small and mid-size rooms. Even the most energetic sets of bookshelf speakers can't cover large spaces.
As for the room layout, the best speakers should be placed in an open space. If there is a wall or a piece of furniture in front of them, it will serve as a sort of barrier, and the sound won't be loud enough. In that case, you would need to get the best speakers with plenty of watts.
Also, pay attention to the frequency response range. If you listen to electronic music and enjoy a stronger bass, you will need a wide dynamic range. Otherwise, you will probably need to buy an additional subwoofer.
Bookshelf Speaker Components
Most bookshelf speakers have two components: a woofer, which is in charge of low frequencies, and a tweeter, responsible for higher frequencies. However, if you like listening experience to bands and live concerts, you should look for a bookshelf speaker set that also has a mid-range driver.
Related Speaker Buying Guide: Best Affordable Studio Monitors
Speaker Material
Bookshelf speakers can be made of lots of different materials, including metal, rubber, plastic, and paper. Besides giving the hi-fi speakers a specific look, these materials also influence the sound quality. The best bookshelf speakers are made of premium materials, which is one of the reasons their sound is outstanding.
Top bookshelf speakers have soft materials, such as silk, on their tweeters. This feature enables them to produce beautiful and smooth sound. On the other hand, stronger materials prevent distortion and make the sound clearer, not to mention increase the durability of the HiFi speakers.
In the end, your best bet is to find hifi speakers that have the right balance of light and durable materials.
Connectivity Options and Functionality
One of the most critical features of any speaker is connectivity. As for bookshelf speakers, they can have different input options.
Most bookshelf speakers include at least one 3.5 mm AUX port. This port enables you to connect the speakers to RCA cables or headphones.
However, if you want to connect your hi-fi speakers to the DVD player, TV, console, or any other similar device, you should make sure that they come with a digital connection output.
Also, you may want to check out bookshelf speakers that support Bluetooth connectivity or other wireless types of connection. That way, you will be able to connect them to your phone, tablet, or any other Bluetooth device, which does sound incredibly convenient.
Bookshelf Speaker Placement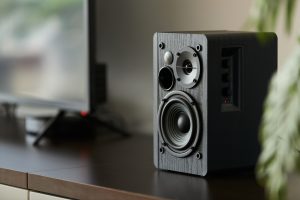 Bookshelf speakers work best when placed on elevated surfaces, such as bookshelves, which is where they get their name from. Still, when it comes to their placement, they are quite flexible. If you don't want to keep them on a bookshelf, after all, you should consider buying a pair of speakers with multiple positioning options.
Some bookshelf speakers come with gear that enables you to mount them on the wall. Others can be placed on a speaker stand or a piece of furniture, like tables and other surfaces.
Whichever speakers you go for, bear in mind that you should keep them on a hard surface. Soft surfaces absorb the sound and diminish the quality.
Esthetics
Of course, how a bookshelf speaker looks should not influence the sound quality. However, if my new pair of speakers is an eyesore, I probably won't like spending much time around them.
Fortunately, modern bookshelf speakers have a beautiful and classy design. You can easily find a premium-quality speaker set that also goes well with your room decor.
Warranty
Just like all devices, bookshelf speakers can't live forever. In time, they will need some servicing to help them keep the best sound quality possible. Therefore, it's essential for a speaker set to come with a warranty.
The more extended the warranty, the better. Still, even a short warranty period is better than no warranty at all.
---
My Top Picks for the best-powered bookshelf speakers — 2020 Speaker Reviews
Now that we've covered the basics, it's time to see what the best bookshelf speakers of 2020 can offer. When choosing products for this list, I considered all the previously mentioned factors. Still, your final choice should depend on your own needs and preferences.
#1. Klipsch R-15PM: Premium Sound, Power, and Performance
CHECK PRICE ON AMAZON
As one of the giants in the audio industry, Klipsch is famous for its premium-quality powered speakers that provide us with crystal-clear, natural sound. Now, with Klipsch R-15PM, the company has its first wireless speaker set designed for home use. Therefore, it should come as no surprise that these are among the best bookshelf speakers.
First Impressions
The first thing I noticed about Klipsch R-15PM is that the speakers are quite small. Weighing only ten pounds, they are incredibly portable, and you can place them wherever it suits you.
Still, don't let their size fool you — this powered speaker may be small, but their quality and power are incredible. Klipsch R-15PM active speaker produces vibrant, dynamic, and yet, smooth sound, strong enough to fill any room. Even when I pumped up the volume, I could hear no sound distortion, and the whole audio experience was more than satisfying.
Features and Benefits Product 1 best-powered bookshelf speakers
Pros Con Product 1 powered speaker
---
#2. Edifier R980T 4″: High Functionality and Powerful Bass
CHECK PRICE ON AMAZON
After the success of its older speaker models, Edifier decided to surprise us with new active bookshelf speakers that are both high-quality and affordable. Edifier R980T speakers are the cheapest entry on this list, which makes them the best bookshelf speakers for those on a tight budget.
First Impressions
Edifier R980T is yet another small but excellent speaker set. The dimensions are ideal for people who like to move their speakers a lot. You can even place them on your desk, and they still won't get in your way.
Yet, this speaker set is quite powerful when we consider its compact size. With a total power output of 24 watts, it's strong enough to fill small and mid-size rooms with full and deep sound.
Also, it is straightforward to set up and control. You will find all the necessary controls, such as the bass knobs and master volume, on the back of the main speaker. Even if you're not tech-savvy, you won't have any trouble adjusting the audio to your liking.
However, while this speaker set is ideal for those who love minimalistic devices, some audiophiles may find it too essential.
Features and Benefits Product 2 best-powered bookshelf speakers
Pros Con Product 2 powered speaker
---
#3. Audioengine A5 Plus Classic: Great Build Quality and Sound
CHECK PRICE ON AMAZON
Audioengine, as one of the digital music veterans, is always a safe choice. Its A5 Plus Classic are, without any doubt, some of the bookshelf speaker stands I've ever seen. Compared to their predecessors from the A5 series, A5 Plus speakers look quite similar at first. However, these have gone through some serious upgrades and can outperform any of their older brothers.
First Impressions
What I first noticed about Audioengine A5 Plus Classic is that, despite their small size, these speakers are rather heavy. The right speaker weighs 9.6, and the left one 15.4 pounds. That makes them less portable than some other active bookshelf speakers on this list.
However, their weight can be an advantage if you intend to keep them on your desk or another piece of furniture you often use. The chances of accidentally knocking them over are pretty small, which is excellent news for all of us clumsy folk.
Features and Benefits Product 3 best-powered bookshelf speakers
Pros Con Product 2 powered speaker
---
#4. PreSonus Eris E3.5 – 3.5″: Plenty of Functionality and Quality Audio
CHECK PRICE ON AMAZON
PreSonus owes its success to its fantastic studio monitors and professional gear. That's why the company decided to launch PreSonus Eris E3.5 — the best bookshelf active speakers for superiorly perfect mixes. These share many traits with the models we can find in the best music studios.
First Impressions
PreSonus Eris E3.5 is yet another compact bookshelf speaker set that also happens to be extremely powerful. With 50 watts of power, these speakers will fill any mid-size room and even some larger ones.
The sound is fantastic. I especially enjoyed the bass, as it is neither muffled nor boomy, even at high volume. What's more, the audio experience is excellent, not just when it comes to listening to music but also when watching movies and playing video games.
Features and Benefits Product 4 best-powered bookshelf speakers
Pros Con Product 2 powered speaker
---
#5. Edifier R1280T: Quality Design and Good Value
CHECK PRICE ON AMAZON
As the older brother of R980T, Edifier R1280T speaker set is a bit larger than its successor. However, it's sturdy, more attractive, and you won't have to break the bank. In my opinion, these may be the bookshelf speaker for those who are looking for a good quality/price ratio.
First Impressions
Edifier R1280T offers fantastic quality, which is not expected from such a low-budget speaker set. Both the highs and the mids are outstanding, while the bass is quite profound. With the power of 42 watts, it is strong enough to fill most mid-size rooms. Also, it works great with movies and games.
What I especially like about these speakers is that there are several user-defined controls, including treble and bass dials. Therefore, you can easily adjust the sound based on your music choices.
Also, Edifier R1280T comes with a remote controller. However, I found it to be too basic — the only settings it offers are volume control and a mute button.
Features and Benefits Product 5 best-powered bookshelf speakers
Pros Con Product 5 powered speaker
---
Best Bookshelf Speakers — Runners-Up
Before I reveal what the best bookshelf speakers of 2020 are, let's take a look at the runners-up. Bear in mind that these speakers are also of high quality. Still, they have several disadvantages, which is why they didn't cut.
#6. Polk Audio T15 Speakers
CHECK PRICE ON AMAZON
Polk is one of the audio industry's most significant companies, so how come I didn't include any of its speakers on my list? Well, hear me out.
Polk Audio T15 is a decent active bookshelf speaker set. It is pretty powerful and comes at a reasonable price. Moreover, you don't need to keep it on a surface since it can easily be mounted on a speaker stand.
However, it has plenty of downsides that any audiophile will notice, which is why I believe it doesn't belong among the best bookshelf speakers on my list. Even though Polk Audio T15 has excellent power, in terms of sound quality, it is not up to standard.
High treble is especially weak, and you may find it too soft. Mids and lows are OK, but there is still much left to be desired. If you go for this model, you will need to buy a subwoofer. Overall, the sound seems somewhat congested.
Another thing that I noticed is that the sound quality drastically changes when you put the speakers on an elevated surface. The sound becomes more precise and more rounded. However, if the speakers are on a desk or a lower bookshelf, the sound quality goes down.
Finally, while this speaker set is, by no means, unsightly, the design is too dull. You can tell that these are some of the cheaper-looking bookshelf speakers on the market.
---
#7. Edifier R1280DB Speakers
CHECK PRICE ON AMAZON
At first glance, the Edifier R1280DB speaker set seems pretty similar to R1280T. Design is more or less the same, so it is quite attractive. But there is one notable upgrade — it supports Bluetooth connection. Also, most users will find it compelling enough.
Mids and highs are pretty decent. The woofer is also great, and you will get a nice and deep bass. Still, even though the bass is satisfying, it's nothing to write home about.
At lower volume levels, the sound is just beautiful. However, if you turn it up, you can expect some distortion and crack. In comparison to R1280T, the overall sound quality is too average.
A significant flaw of Edifier R1280DB is also its greatest strength — Bluetooth. It happens to be one of the few wireless speaker sets that you can get at a bargain price, which makes it quite desirable. However, I found Bluetooth to be unreliable and low-quality.
It might take a while until you can successfully connect the speakers to another device. To make things worse, the connection is weak. If there is an object between the speakers and the connected device, the connection will probably break.
---
#8. Micca MB42X Speakers
CHECK PRICE ON AMAZON
Although it is not among the best bookshelf speakers on my list, Micca MB42X remains an excellent speaker set. In comparison to the older model, MV42, it has seen some significant upgrades.
Most notably, it has a new crossover, which significantly improves its performance. Also, its silk dome tweeter and carbon fiber woofer produce both highs and lows of excellent quality.
However, even though the bass is nice and deep, it's not powerful enough. This downside was especially noticeable when I tested this speaker set with electronic music and action movies. If you love strong bass, these speakers won't meet your demands — you'll also have to get a subwoofer. Also, the sound quality depends on how high you place the speakers.
When it comes to the design, it is quite simple — the speakers look like they belong in the 1990s. Still, if you like entirely understandable speakers with a grille, you probably won't mind it.
All in all, while Micca MB42X is more than decent, the speaker set is certainly not among the best bookshelf speakers you can find. Still, if you're not looking for anything spectacular and want regular speakers for calm music and watching movies, it is an excellent pick.
---
#9. Audioengine A2 Plus Speakers
CHECK PRICE ON AMAZON
A2 Plus is yet another decent set of bookshelf speakers with some great features. After all, we didn't expect anything less than superb quality from an established audio company such as Audioengine.
Audioengine A2 Plus produces rich sound, free of DSP, and has a high-frequency response. The sound is accurate, and the vocals truly shine.
As for its connectivity options, this little speaker set can connect to pretty much anything that crosses your mind. Besides RCA outputs, it also comes with a USB port and supports Bluetooth connection.
Unfortunately for A2 Plus, it cannot compare to A5 Plus that I mentioned earlier, especially in terms of sound quality. While this speaker set is pretty powerful when we take its size into account, it can perform well only in smaller rooms. Also, you must elevate it or angle it upward to get high-quality sound. Otherwise, your music will sound muted and congested. Moreover, the speakers don't perform well at higher volumes.
Another thing that I didn't like about this set is that the bass is too weak for my liking. It's not deep enough, and distortion is quite common. So, if you like a somewhat richer bass when listening to music, you should look elsewhere.
---
#10. Yamaha NS-6490 Speakers
CHECK PRICE ON AMAZON
A veteran in the audio industry, Yamaha has given us a fantastic three-way speaker set with NS-6490. Unlike most bookshelf speakers, this set comes with a mid-range driver besides the woofer and tweeter, so the mids are just fantastic. I also liked the bass, which is deep but not too boomy. Moreover, its frequency range is fantastic for a pair of bookshelf speakers.
Still, the tweeter is pretty small, and the highs are not that great. This downside is especially irritating when you turn the volume up.
Also, it doesn't offer acoustic tuning. If you don't place it in a certain way, the sound quality will be too saturated. Still, the overall quality is decent, and there is also a built-in crossover.
What I found to be the most significant flaw of Yamaha NS-6490 is its design. Even though this speaker set is marketed as a pair of bookshelf speakers, it is way too bulky. If you want to place it in a small or even a mid-size room, you will have trouble finding a place where it can fit in well. Also, its appearance is far from visually appealing.
If you're not too fussy about speakers, Yamaha NS-6490 might be the right choice for you. However, if you want to treat yourself to the best bookshelf speakers, you should consider another model.
And the Top Bookshelf Speaker Set Is… Klipsch R-15PM!
After careful consideration and much testing, I concluded that I have a clear winner — Klipsch R-15PM.
This model has it all — high-quality Bluetooth, all sorts of compatibility options, and high power. Also, even though you may need a subwoofer if you enjoy a wide range of bass frequencies, Klipsch R-15PM still produces exceptional bass.
In terms of sound quality, it outperformed every other model. With these speakers, you will enjoy rich, outstanding sound. Therefore, there is no doubt that they are, by far, the best bookshelf speakers of 2020. With Klipsch R-15PM, you will always feel like turning up the music and dancing to the beat!
However, Klipsch R-15PM is a bit pricey in comparison to other models, so if you're looking for good bookshelf speakers while on a budget, I recommend Edifier R1280T.
Although this speaker set is not wireless, it still has plenty of connectivity options and supports various devices. Furthermore, since this is a budget speaker set, the sound quality, bass depth, and design are truly outstanding.