Do you dream of your very own professional surround sound system at home, but pale at the huge expense? You're in luck! In this article we're going to show you how you can use a 2.1 surround system to get a professional sounding system on a budget. 
In this article we'll explore what 2.1 and 5.1 surround sound are, comparing which one is better and uncovering the mysteries behind the tricky technical terms, empowering you to choose the best speakers for your needs without breaking the bank.
What is a 2.1 Surround Sound Speaker System?
Speaker systems are labelled by the number of satellite speakers and subwoofers included in the setup. The firing subwoofer will produce the lowest frequency sounds the system can handle, while the speakers deliver the mid- and high-frequency sounds.
The subwoofer is located in the middle, and the speakers are located on the left and right, providing the surround sound experience. Using an arrangement with multiple speakers and a subwoofer provides the best sound quality.
A 2.1 channel system includes two satellite speakers and one subwoofer. Another common arrangement is a 5.1 speaker system, which has one front center speaker, two right speakers and two left speakers. The side speakers are arranged with one pair of front speakers and one pair of back speakers. 2.1 speakers are good because of their ability to deliver quality sound while taking up less space. They are also less costly, and easier to set up.
Are 2.1 Speakers good?
For home theaters, the 5.1 surround sound might be better, because it will fill the space and separate more channels. For most tv and computers though, a 2.1 speaker system is plenty. These can be in the form of a soundbar, which is great for watching movies, or bookshelf speakers, which are ideal for computer setups.
When you look at a 2 1 speaker system, you should ensure the speakers provide balanced sound, and that there is one control pod. This way, the volume control affects the full system – no one wants to hear the climax of a movie from just one ear! Next, we'll go over the rest of the technical terms you'll want to be aware of when you are shopping.
Technical Terms You Should Know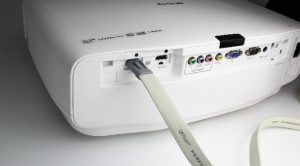 What's the difference between 5.1 or 2.1 surround sound? Do I need a speaker system with a huge dynamic range? What does THX Certified mean?
To find the 2.1 speaker system that's right for you, knowing the right technical terms helps you understand what to look for, what's worth splurging on, and how to compare the systems that are in your budget.
Here's a rundown of some of the most common specifications you'll need to compare:
Power
Power tells you how loud the speaker system is able to get before the sound quality is reduced. You should consider peak power, which is the absolute maximum power the system can handle without warping the sound quality. Do you watch lots of horror or action movies, requiring high power? Another important specification is RMS power, which is the consistent power the system can handle for the whole time you are using it.
Do you like to listen to your music full blast, or do you have irritable neighbors and rarely crank it up above a four? These questions help you determine what you can let go to save some money. Power is measured in watts, so you will sometimes see this spec listed as the watts RMS number. These will be most important to you if you require the speakers to have long throw which fills a large space, like in a home theater or a room with high ceilings. For a smaller setup, like a computer speaker system, you'll want to make sure you find a compact system that doesn't limit your ability to play your games as loud as you like.
Frequency Range
Another important factor is the frequency response range, which should cover the full range of human hearing: 20Hz to 20KHz. Limiting the frequency range will result in a lower quality experience, whether you're gaming or watching a show.
Channel Systems
The channel system uses the same label as the overall speaker system: two mid-high frequency channels and one low-frequency channel. The channel system is not flexible, so don't purchase a 5.1 speaker system with the intention of using just 3 of the speakers.
There is one range per channel, so eliminating a speaker or two will reduce the range of the system. This is the fastest way to ruin your surround sound experience, even if you choose a great product. Home theaters benefit from the extra channels as you have the space for the extra speakers. However, cramming more speakers into a small space will not improve the surround sound experience. It's better to go for a good quality 2.1 system instead.
Headphone Jack and Bluetooth
If you want to connect multiple devices to your speakers, you'll want to choose a system with Bluetooth connectivity like the Harman Kardon Soundsticks iii, which use a 2 1 channel system. This can also let you control the speakers right from your phone. If you want to game for hours on end without bugging your neighbours, a 3 5mm headphone jack is crucial.
THX Certified
Audio devices being THX certified tells the customer that the sound produced by your speaker system matches the audio recorded in the studio, a quick way to choose speaker systems with great overall sound. Many popular 2.1 speakers, including the Logitech z623, Edifier s350db, and Klipsch Promedia 2.1 are THX certified. Still unsure if this certification matters? Click here for more information.
So what are the best 2.1 surround sound speaker systems?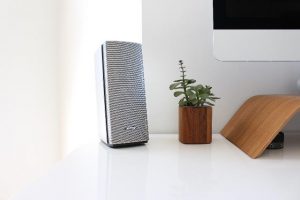 When you're choosing 2 1 speakers for your home theater, you'll want the system to include a remote control. Using a universal remote can limit the features available to you, even if the system offers all the bells and whistles.
A soundbar is a great choice for a TV 2 1 speaker system because they usually fit on the same display stand, or can be mounted alongside it. You could also choose a three-piece system and maximize the seating area the sound can fill. This will depend on your personal preference, but look out for soundbars that don't provide the full 2 1 channel, as these won't have a subwoofer. This will limit the experience you get from your home theater as it won't provide the full range of frequencies.
How to Choose Computer Speakers
A 2 1 computer system should suit your desk set up, which often excludes soundbars. Instead, look for bookshelf speakers. These sometimes have dome tweeters, which give you better audio quality at high frequencies. Because you'll be sitting at a desk rather than on a couch, you can opt for a system that uses a volume control dial. You should still look for a computer speaker system that uses 1 channel per speaker, though.
Combining the channels usually results in lower audio quality. Even if you plan to use your headphones with a 3 5mm connection, the 2 1 channel is important for accurate audio. Get better value by opting for an entry-level system with lower power – you'll be fully immersed in sound even at a lower volume if you are using headphones.
Looking for a 2 1 THX certified speaker will make it easy to find an option that delivers on quality without breaking the bank. One great option for a 2 1 computer speaker is the Edifier s350db, which have the added benefit of offering a Bluetooth connection. Pro tip: don't forget to think about how tall the pieces are! If you are planning to nest them under your desk or next to your monitor, you'll definitely regret it if they're just half an inch too big to fit.
Now you're an audio pro!
Now that you know what to look for, you'll be able to purchase the right speaker system, 2 1 or otherwise, for your needs without being overwhelmed. Whether you are a dedicated PC gamer looking for a new computer speaker, watching tv shows on your own, or trying to wow guests in your home theater, use what you've learned to pick the speaker system that will give you the most bang for your buck. Take your time, compare all your options, and look for a store that will let you test drive the options. Go out and use what you've learned from this article to confidently shop for a 2 1 speaker, or share it with someone who needs an upgrade. You can always apply this process of comparing features to other items you need to shop for, too. If you found this article helpful, or have another tech spec dilemma, sound off in the comments below.