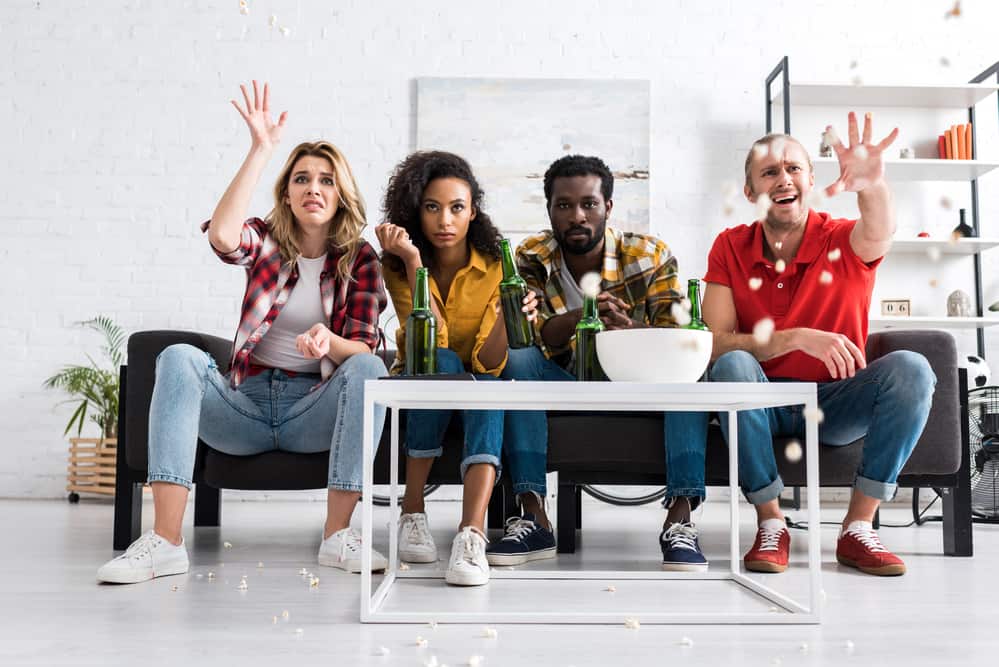 I think everyone should ugrade to wireless speakers for their home theaters. In this article, I'll explain why, as well as rounding up and comparing five of the best wireless speakers. I hope that this will actually make you think about your home audio setup and possibly consider upgrading it.
Even though people love listening to high-quality audio, most of them still listen to music on their TV speakers. In my opinion, that's absurd considering the technology we have today.
I remember when a "surround system" used to imply four tiny satellites and a rumbly subwoofer, all connected to a cheap, low-grade amplifier. Sure — you could have bought the speakers and the amp separately to create a top-notch home theater setup. However, that would have cost you thousands of dollars. Besides that, you'd have had to spend at least a day or two setting the whole thing up.
Luckily, in the last five years or so, home theater speakers have gone through a radical change. Nowadays, you can find a decent sound system for a fraction of the cost of an audiophile system. Moreover, it can deliver a powerful sound, with almost no installation necessary.
If you're interested in learning more about this topic, keep reading. I'll tell you everything you need to know about the latest home theater sound technology. In the end, I'll also present my picks for the best wireless home theater speakers.
Feeling Lazy to read the whole article? Here is a list i made for you that i recommend the most:
---
Highlights
These speakers from Bose are powerful, and their sound quality is more than decent. Although the bass gets muddy sometimes, they work wonders when it comes to watching movies.
Even though they're a bit pricey, the Nakamichi speakers make up for the expense with sheer innovation and quality. Their technology is on par with more high-end options, and they look and work great.
Vizio is an underestimated but tough competitor. These speakers may not have the best sound quality, but we do have to consider their size and price here.
If you're looking for feature-packed wireless speakers, but you live in a small apartment, the MagniFi system is your best option. It doesn't support surround sound, but it makes up for that with its versatility and connectivity.
If you're looking for an easy, all-around solution, Yamaha is a great choice. It's got the power, the technology, the ease of use, and, most notably, the price.
---
---
Advantages Of a Good Home Theater Setup
Most of us spend a huge amount of time sitting in front of our TVs. Unfortunately, no matter what it is that you're watching, low-quality TV speakers simply take away from the whole experience. You have to listen carefully and suffer through the harsh, distorted sound every TV puts out when you turn the volume past 50%. Additionally, the TV is most likely quite far away from your favorite lounge chair, so the sound doesn't travel as well toward you.
Sadly, you probably don't even know what you're missing out on. But, if you invest in a good-quality home theater system, you'll immediately recognize how much it improves the sound. Naturally, the most noticeable upgrade is the ability to watch movies with crystal-clear surround audio.
Better yet, even listening to the news should become more pleasant with good home theater speakers. For starters, you won't have to turn the volume up all the way, especially if you treat yourself to a multi-speaker setup. What's more, the external subwoofer should bring actual bass to your living room — not the muddy, distorted mess we associate with TV speakers.
Wired vs. Wireless Speakers
In most cases, both wired and wireless home theater speakers offer comparable sound quality, even though wireless systems tend to use less power. You see, a wireless speaker system integrates an amplifier into each speaker, instead of having a central amp powering all the speakers. That way, all you need to do is plug each speaker into the socket and connect them all to the network. The system then calibrates itself, leaving you to enjoy your new system with no hassle whatsoever.
Yet wired speakers will always have an advantage in terms of versatility and robustness. Discrete mono amplifiers in wireless speakers tend to be of mediocre quality, with only a few manufacturers putting truly incredible amps in their speakers. Additionally, if a wireless speaker breaks, you'll most likely have to replace the entire unit. When a wired speaker dies, you can replace only that speaker and plug it into the amp.
Wireless Is Always a Solid Choice
In my opinion, most people should opt for wireless home theater speakers, despite some of their disadvantages. These speakers are usually quite easy to install and use. They almost always come with warranties, which last for years. On top of that, you're more likely to use a wireless home theater system as an all-around music hub, thanks to its integrated Bluetooth and Wi-Fi capabilities.
Still, if you're going to get a wireless sound system, don't be cheap. There is only a handful of wireless speakers that are actually worth their cost. If you're on a budget, wired speakers are a solid choice, as you can get good sound quality at a lower price.
On the other hand, a good wireless cinema sound system will basically change your life. At least it did for me. When wireless speakers first came to be, they were all the rage, but I thought they were overrated. However, once I gave this new technology a try, I said goodbye to wires once and for all.
Types of Surround Speakers
You've probably heard of 5.1 surround sound speakers. The 5.1 figure refers to the system having five satellites (full-range speakers or tweeters) and one subwoofer. The most common 5.1 speaker setup is three speakers at the front (left, right, and center), one speaker on either side at the back, and one subwoofer.
Nowadays, you can find all kinds of surround sound speakers. And, since the 5.1 standards has been replaced with 7.1, you can actually find much more complex systems.
For example, the highest standard today is Dolby Atmos, which supports up to 9.2.4 audio streams. It consists of nine face-level surround speakers, two subwoofers, and four overhead speakers for the ceiling. So, with Atmos, you'll be able to accurately locate each sound. They will come from all directions and in all three dimensions.
Soundbars
Yet, sound engineers have been working hard over the last couple of years, and the work has definitely paid off. Thanks to their effort, we now even have soundbars (https://www.youtube.com/watch?v=tVUDY5irLBo).
Although it looks like a simple box, a soundbar is actually an incredibly clever multi-speaker system. Depending on the specific model, it can deliver high-quality surround sound all by itself. Once you place it in front of the TV, It calculates the dimensions of your room and plays audio with just a little bit of delay or echo. That way, it can trick your mind into believing that the sounds are coming from above, behind, below, or right in front of you.
It's incredible how engineers have managed to do that with a single box! Of course, a multi-speaker setup can sound much more impressive, but the amount of money and effort you save by using a soundbar makes it all worthwhile.
Now that we've cleared things up, let's see what the best wireless home theater speakers are.
My Top Picks for the Best Wireless Home Theater Speakers
#1. Bose Acoustimass 10 Series V
CHECK FOR PRICE
The Acoustimass 10 Series V speakers from Bose are some of the best wireless home theater speakers at the moment. Acoustimass is a traditional, multi-speaker system that promises superb audio quality, as we've come to expect of the Bose brand. It consists of a classic 5.1 speaker arrangement, with improved Direct/Reflecting satellites. In addition, it comes with an Acoustimass subwoofer, one of the best modules that Bose has ever made.
First Impressions
The Bose Acoustimass 10 Series V is an old-school 5.1 home theater surround sound system. So, even though it delivers great sound quality for movies, jazz, and classical music, it can get a bit muddy when it encounters bass-heavy tunes.
Also, keep in mind that though the subwoofer can deliver more than enough bass, the same can't be said for the satellites. They tend to get a bit distorted when playing notes in the lower spectrum, but you can manage that by fiddling with the low-end gain control on the subwoofer.
In my opinion, though, a system that costs as much as this one should come calibrated out of the box.
---
#2. Nakamichi Shockwafe Elite 7.2 SSE
CHECK FOR PRICE
Every tech-savvy music lover will tell you that Nakamichi Shockwafe Elite are some of the best wireless home theater speakers right now. They're quite popular, and for a good reason. Aside from a huge soundbar and two subwoofers, this system also comes with two bidirectional rear speakers. And believe me — those will make the biggest difference when it comes to surround sound. Additionally, this system supports all of the newest audio processing technologies, such as DTS-X, Dolby Atmos, and SSE.
First Impressions
The first thing that sticks out when it comes to this system is its price. If you're an experienced audiophile, you'll be able to appreciate the sound. However, if it's your first time buying a wireless home theater speaker system, you should go with something a bit more budget-friendly.
In other words, if you don't intend to use it to its full potential, you'll be better off with something simpler than the Nakamichi. For example, you have to play media that supports surround audio. Otherwise, you won't get the amazing surround sound quality you paid for.
---
#3. VIZIO SB3821-C6
CHECK FOR PRICE
You may be thinking — this is a simple 2.1 system, so why is it on this best wireless home theater speakers list? Well, the Vizio SB3821-C6 is the perfect example of a modern, low-cost soundbar. It enables you to stream music from your phone, as well as TV audio seamlessly and easily. In addition, it only takes a couple of minutes to set up once you open the box. If you're looking for decent-quality home theater speakers that won't cost a fortune, you should seriously consider getting this system.
First Impressions
Before you decide to go with the Vizio, though, you should be aware of where this product stands in my lineup. Sure, it has some great features for the price, but it also comes with some limitations.
For starters, the Vizio doesn't offer surround sound like the rest of the products listed. Instead, it relies on a 2.1 stereo system with an additional subwoofer. Also, while it can produce great-sounding music, it lacks the appeal of surround sound when you're watching movies.
---
#4. Polk Audio MagniFi Mini Home Theater
CHECK FOR PRICE
The MagniFi Mini is an incredibly compact wireless home theater sound system. It's a lifesaver for anyone living in a tiny apartment. Although it's small, it can deliver surprisingly powerful sound. Also, it can serve both as a bedroom speaker and a home theater system. Because of all that, it's one of the best wireless home theater speakers on the market, at least in my opinion.
First Impressions
As with the Vizio, the MagniFi Mini has to make a few sacrifices in order to get past its size and price constraints. For starters, you don't get true surround sound, even though the speaker supports virtual 5.1 sound. However, once you get past its caveats and see the MagniFi Mini for what it is — a compact, versatile soundbar — you'll get to appreciate its beauty and quality.
---
#5. Yamaha YAS-207BL
CHECK FOR PRICE
The Yamaha YAS-207 are the best wireless home theater speakers for those of you who are on a strict budget. This system delivers stunning surround sound from only a soundbar and a subwoofer, with a simple, hassle-free setup and plenty of power. Its price, combined with its features, makes it a good value option for most people.
First Impressions
However, before you decide to go for the Yamaha YAS-207, you should consider two things — voice control and multi-room capabilities. Unless you need these two things, you'll be perfectly satisfied with the YAS-207. It will deliver everything you need to enjoy both music and movies, without skimping on quality.
---
Final Thoughts on the Best Wireless Home Theater Speakers
Finally, the time has come to pick the best wireless home theater speakers. And to be honest, I knew right from the start what my choice was going to be.
Even though most people don't need such an advanced sound system in their home, my first choice would be the Nakamichi Shockwafe Elite. It's undeniably the most impressive product on this list. However, its price is tough to swallow, which is why most people opt for a more budget-friendly option. I just had to take that into consideration when making a decision.
That being said — I highly recommend the Yamaha YAS-207BL. It's totally affordable and won't cost you an arm and a leg. Still, it should satisfy most of your needs, no matter if you're planning to listen to music or watch movies. It can deliver surprisingly convincing surround sound, and it packs a considerable punch for its price. So, if you're looking for the best wireless home theater speakers on a budget, the Yamaha YAS-207 system is your best bet.